September 11, 2019
I'll be at Albacon 2019 this Friday and Saturday, at the Ramada Inn. I'll be participating in some great panels, so come and enjoy if you're there!
Friday
5:00 p.m. — Kyle
The DC Cinematic Universe
Why isn't it as good as it could be?
I'm moderating, with Andre Lieven and J.A. Fludd
6:00 p.m. — Kyle
Stampeding Into the Uncanny Valley
With Disney's remake of "The Lion King" and the forthcoming movie musical "Cats," we're seeing CGI raised to an unprecedented height of realism. Does this change our expectations and perceptions of real life performers? As this technology turns to "deep fakes" and hoaxes, can we trust anything we see on a screen?
with Nightwing Whitehead, Shannon Grant (moderator) and Christine Cohen
Saturday
11:00 a.m. — Wombat
Author Reading
12:00 p.m. — Wombat
Books Into Film
Best and worst examples
I'm moderating, with William Reeve, Christine Cohen, Nightwing Whitehead and GOH Bruce Coville
6:00 p.m. — Kyle
The Folk Horror Revival
Recent films like "The Witch" and "Midsommar" are part of a revived interest in "folk horror" as a genre–films in which rural customs and landscapes are are filled with foreboding and hidden violence. What defines and inspires these films, and what attracts filmmakers and audiences to these tropes in the 21st century?
with Debi Chowdhury, James Macdonald, Shannon Grant (moderator) and Christine Cohen
July 10, 2018
I'll be at Readercon 29, on Thursday, Friday and Saturday–commuting down and back because I have foster kittens to take care of, and other responsibilities. But here's what I'll be doing at Readercon this year:
Thursday, July 12
8:00 p.m. (Salon C) Human Labor in the 21st Century. Automation is predicted to eliminate millions of jobs in the next several decades. Indentured servitude is making a comeback in the trucking and cruise ship industries. Numerous national and global factors will reshape workforces. A pandemic that targets working-age people could change everything; so could a large country implementing universal basic income. Our panelists will imagine what human labor might look like in the next 100 years, and what stories can be told about those laborers and their work. I'm moderating, with John Chu, Natalie Luhrs, Rob Cameron and Robyn Bennis.
Friday, July 13
2:00 p.m. (Blue Hills) Recent Nonfiction Book Club: Four Futures: Life After Capitalism. Peter Frase argues that increasing automation and a growing scarcity of resources, thanks to climate change, will bring it all tumbling down. In Four Futures, Frase imagines how this post-capitalist world might look, deploying the tools of both social science and speculative fiction to explore what communism, rentism, socialism, and exterminism might actually entail. Join us for a discussion of this book. I'm moderating, with David DeGraff, Robert Killheffer and Rob Cameron.
6:00 p.m. (Salon C) Witches in Legend and Folklore Why are witches such polarizing figures, both fascinating and repelling their neighbors? Why do they make such powerful symbols and captivating characters? Sara Cleto and Brittany Warman will examine witches through the lens of folklore studies, introducing a few traditional witch legends and exploring some of the ways that witches have been conceptualized, and then open the floor for a discussion of what witches mean to the panelists and audience. With Sara Cleto (moderator), Brittany Warman, Jenise Aminoff and Shveta Thakrar.
10:30 p.m. Meet the Pros(e) Party. Where all the writers mingle with sheets of stickers printed with a quote from their work, and everybody collects the stickers.
Saturday, July 14
10:00 a.m. (Salon 6) Reading and Life Stages, Part 2: 50+. Our notion of who readers are is often built on the image of readers in their teens and 20s, but as people age, their reading habits change. In this intimate and personal two-part panel, panelists will discuss their age-related shifts in reading speed and ability to focus, time for reading, interest in reading, book acquisition and deacquisition, use of print, digital, and audio books, and other related topics. Part 2: readers 50 and over. I'm moderating, with Judith Berman, Michael Dirda, Kathryn Morrow and Paul Levinson.
9:00 p.m. (Blue Hills) Author Reading. Haven't decided what to read yet but I think it will be something new.
Hope to see you there!
July 7, 2017
I'm going back to Readercon, after a long hiatus–during which they changed their venue and are now down in Quincy!
Thursday, July 13
8:30 p.m. (Salon B) Author Reading. I got a reading time! I'm still deciding what to read, but it will be something new, probably a short story.
Friday, July 14
11:00 a.m. (Salon 6/7/8) Writing Characters with Flawed Beliefs. Throughout history, many people held unquestioned beliefs we now consider ridiculous or even offensive. What should we do with historical characters who believe things that are now taboo or simply wrong, and how do we handle a protagonist who holds beliefs modern readers may find unbelievable or offensive? In addition, how do we integrate our own assumptions and beliefs into fiction while knowing that readers decades or centuries from now will find them flawed or risible? with Michael Dirda, Tom Greene, Jim Kelly, and Tracy Townsend (leader).
10:30 p.m. Meet the Pros(e) Party. Where all the writers mingle with sheets of stickers printed with a quote from their work, and everybody collects the stickers. I decided nothing could beat the opening sentence of "The Fishman and His Wife" (just released in the anthology  Twice Upon an Apocalypse!), and hopefully it will fit on the stickers. To see what it is, you'll have to come to the party or buy the book.

Saturday, July 15
1:00 p.m.  (Salon C) A Technology Not Traveled. Alternate history and historical fantasy often engage with technologies that once seemed like the way of the future: airships, clockwork, mechanical computing. There's a certain dreamy wonder around many modern depictions of early industrial inventions. Why are we fascinated with what became technological dead ends? There are many magical fantasies where wizards can't use computers; is this a different expression of the same anxieties about modern gadgets? Is there really a possible timeline where clockwork became ascendant while electronics never took off, or is it all just an excuse for some gorgeous cosplay? with John Chu, Chris Gerwel, Jeff Hecht, Sioban Krzywicki (leader).
3:00 p.m. (Salon 5) It's Shirley Been 100 Years. December 2016 was the 100th anniversary of Shirley Jackson's birth. She's best known for her story "The Lottery" (1948) and her novels The Haunting of Hill House and We Have Always Lived in the Castle are almost as widely known. What is Jackson's legacy in modern horror and fantastical fiction? Which authors, particularly those who share her focus on domesticity, most clearly show her influence? with Elizabeth Hand (leader), Jack Haringa, Faye Ringel, Paul Tremblay. 
Of these, I'm the most pleased to be on the Shirley Jackson panel. I've been a Shirley Jackson fan since I was in junior high school. Believe it or not, it was a while before I read the story that made her notorious, "The Lottery," and I didn't think it was that interesting. The first work of Shirley Jackson's I read was her novel We Have Always Lived in the Castle, followed by The Haunting of Hill House. But if I had to name one single piece of Ms. Jackson's writing as my favorite, it wouldn't be fiction at all, but the essay she wrote for her daughter, "Notes for a Young Writer," which contains the best writing advice ever. Shirley Jackson is one of two writers I like to credit with "teaching me how to write." (The other one is Peter Straub, who attends every Readercon. I've never spoken to him. I'm too intimidated by him.

)
I'll be commuting to the convention and won't be there on Sunday. I procrastinated on getting a room in the con hotel before the block filled up, but there are alternatives. I decided even a budget hotel was more of an extravagance than I could justify at the moment (and Readercon isn't a party convention). But I hope I can see lots of friends while I'm there!
January 5, 2017
I'll be very busy at Arisia this year–not only am I a Program Participant, I'm also on staff. I'm the Workshops Track Manager for Programming. So, I'll also be helping out in Program Nexus at some point yet to be determined. If there is an Arisia watch party for the Patriots game on Sunday night, I'll be there! And I have a reading time this year. It's going to be a very busy weekend. Hope to see you there!
Fri 8:30 p.m. Marina 3
On Shaming, Bullying and Public Humiliation
SF/F fans are no stranger to bullying — many of us who were picked on for being different at a young age found refuge and escape in the other worldliness of fantastical books, movies, and newer media. The internet age of un-moderated twitter, 4chan, and Gawker has made bullying and harassment easier. The behavior surrounding GamerGate has practically normalized it. What can this teach us about forms of public humiliation and bullying, and what we can do to push back against it?
with Andy Hicks (M), Heather Urbanski, Mark Oshiro, TheoNerd
Sat 5:30 p.m. Burroughs
Shame on Slut-Shaming
Slut-shaming is the act of treating woman as inferior or shameful for engaging in sexual behaviors that deviate from the norm, failing to uphold gender expectations, dressing in provocative ways, acquiring access to birth control, or even for being sexually assaulted. What are the psychological and sociological causes of slut-shaming? What can be done to change people's attitudes?
with Suzanne Reynolds-Alpert (M), Henry M. White, Melissa Perreira-Andrews, Abby Hafer
Sat 10:00 p.m. Alcott
Pitch Mania! A Competition for your Story
Bring your the first page of your story to our Arisia pitchapalooza to read aloud until one of the judges says 'stop!' Learn what people who read stories for a living think of your story, get some feedback, and learn from the mistakes and triumphs of your fellow writers. The winner will be determined by the panel of judges from all of the first pages that are read all of the way through.
with Dianna Sanchez (M), Ian Randal Strock, Genevieve Iseult Eldredge, Hildy Silverman
Sun 7:00 p.m. Marina 3
Supporting Non-Binary Community
How can we support those we care about who are non-binary? Panel of non-binary folks and their allies will discuss proper use of pronouns, the dreaded "real name" argument, and how to be supportive of our friends and loved ones in a (fairly) binary world in concrete ways.
with Ben "Books" Schwartz (M), Brian Liberge, Andy Rosequist, Sharone Horowit-Hendler
Sun 8:30 p.m. Hale
Reading
with A.J. Odasso and Bob Chipman
Mon 2:30 p.m. Hale
The Future of Work
What will jobs and careers look like in five years? Ten? Fifty? Is the "gig economy" the new norm, or a passing trend that children born this year will later study as a failed economic model? Will manual labor make a come back as it's hard to outsource plumbing installation to China or India? Has the time for Universal Basic Income arrived?
with William C. Walker III (M), Ellie Younger, T.X. Watson, Meredith Schwartz
January 9, 2015
Below is my schedule for Arisia (Jan 16-19, 2015). I have a very good schedule, all the times are perfect and it's nicely distributed through the weekend–kudos to Programming! I'll be day-tripping into the convention. I haven't been to the Weston Waterfront since they did some renovations; looks like there are some different function rooms than I remember. I also hope to be selling some books at the Broad Universe table in the Dealer's Room. Hope to see you there!
———————————————————————————–
Fri 7:00 p.m. — Faneuil
Psi, SF and Storytelling
"Since the days of John W. Campbell at Astounding, psi has been a staple in SF, though public discussion of the subject, by those with these experiences in real life, has been limited. Why do so many real life psi people find irresistible even problematic SFnal narratives? As children or adults, how do we identify with these depictions of people "like us," for better or worse? What do we gain? What do we lose? And what from these flawed but enticing narratives do we embrace, reject, or reclaim?"
With Catherine Kane and Dash (M)
Sat 2:30 p.m. — Marina 1
How to Disagree Better
"Someone is wrong on the Internet! Discussion of new and sometimes challenging ideas is one of the hallmarks of fandom and any free society. We can do a better job of arguing and disagreeing with each other. How do we do this? What tools do we have for sorting out those arguments and finding where the areas of agreement might be hiding? This is not a plea for everyone to agree, this is about how to disagree honestly and respectfully, in ways that allow us to remain a community."
With Bob Kuhn (M), A. Joseph Ross, Joy Marchand, and Ken Kingsgrave-Ernstein
Sun 11:30 a.m. — Hale
Tales from the Slush Pile
"Our esteemed panelists describe the worst of the worst that have crossed their editorial desk. Panelists will also discuss ways aspiring authors can avoid being cast into the slush pile."
With Genevieve Iseult Eldredge (M), Cecilia Tan, Joy Marchand, Hildy Silverman and Joy Crelin
Sun 7:00 p.m. — Hale
Self-Publishing 101: Fiction, Non-Fiction and RPGs
"Do you have an unpublished manuscript sitting in your drawer? Are your gamer friends encouraging you to kickstart your cool RPG? Are you a tradipub author who just got back the rights to your backlist? Would your non-fiction client manual look awesome as a book instead of photocopied papers? This panel of indie authors, small presses, and RPG gamers will tell you what resources are out there, scams to avoid, and what to expect. Come over to the Dark Side of indie publishing. We have candy…"
With Anna Erishkegal (M), Don Chase, Brian Liberge and Susan Hanniford Crowley
Mon 11:30 a.m. — Marina 4
The Hobbit: An Unexpectedly Long Journey
"We're now finally done with Peter Jackson's adaptation. Was splitting one reasonably short book into three films a good choice, or is the extended story just fanservice for people nostalgic for a favorite childhood read? Are viewers starting to get jaded by the on-screen spectacle of Middle Earth, or is the world-building still fresh? Will we get a ninety-film adaptation of The Silmarillion?"
With Susan Hanniford Crowley (M), Eric M. Van, Anna Erishkegal and Bob Chipman
Mon 2:30 p.m. — Bullfinch
Reading. With Greer Gilman and Walter H. Hunt.
December 5, 2014
You can tell that I've been out of the loop, because I didn't even realize there was a new Peter Pan movie in the works until the official trailer came out last week. The whole controversy over casting Rooney Mara as Tiger Lily which roiled last March escaped me entirely at the time. It's arisen again, with more petitions going around to protest the "white-washing" of "Native American" characters.
That's not what is going on with Warner Brothers' Pan, however. It probably wasn't very clear last March, but the trailer makes it extremely obvious what the new movie is actually doing. They aren't casting white actors as "Indians." They aren't filming J.M. Barrie's "Indians" at all. They're making the "tribe" in Neverland something completely fanciful, with no relationship to real-world Native Americans except the character names.
They're doing exactly the same thing to the Neverland "Indians" that film versions of Charlie and the Chocolate Factory did to the original Oompa Loompas in Roald Dahl's book: changing them from parodies of "primitive" people into rainbow-colored imaginary beings that no one could identify with any existing race or ethnicity. In short, they're dodging the whole race question by doing an end-run around it. Unfortunately, this "rainbow-washing" doesn't address the fundamental problems of the narrative as a whole.
You have to be really old to remember this, but the original Oompa Loompas in Charlie and the Chocolate Factory were written—and illustrated, with many little pen-and-ink drawings—as miniature black people. I was eight years old when the book was first released in 1964. Everyone in my 100% white suburban elementary school was reading it. The waiting list for the school library's copy was months long. When I finally got to read the book, even at age eight I saw a lot about it that was just squicky. Charlie and the Chocolate Factory is, of course, a seriously evil book for a lot of reasons, but the Oompa Loompas are its worst offense. It may or may not be a coincidence that the book's writing and publication coincided with the peak of the Civil Rights Movement here in the U.S.
I did not realize until recently that the book was revised in the 1970s to change the descriptions and illustrations of the Oompa Loompas so that they were no longer little black pygmy slaves from darkest Africa but little multi-colored dwarf slaves from Loompaland. It apparently took long and fervent arguments by serious African-American academics to get the book changed, and by that time I had lost all interest in it. I only saw the 1971 movie (Willy Wonka and the Chocolate Factory) once, and only because one of the erstwhile kids was played by a young actress from Dark Shadows, of which I was a fan. I didn't like the movie. Its continued status as a raging cult favorite eludes me entirely.
It was easy to see why Dahl so unashamedly imagined Wonka's undocumented immigrant slave labor force as African. Charlie and the Chocolate Factory is little more than Atlas Shrugged for kids. I'm sure Dahl sincerely believed that "primitive" peoples greatly benefitted from a benign and patronizing owner who took care of their every need, fed them their favorite food every day and only asked that they work for him from dawn to dusk and from birth to death, and serve as test subjects for genius Wonka's weird inventions. What a deal, eh?
But the "Indians" in J.M. Barrie's story may need a little more parsing out before we understand why they, too, are far better excised from the story than superficially dignified by casting real-life Native Americans in the parts.
J.M. Barrie's Peter Pan (or Peter and Wendy) was written as a play in 1904 and novelized in 1911. At that time and place—Edwardian England—Native Americans had become highly popular figures in children's stories and spontaneous play. They were usually referred to (without any derogatory intention) as "Redskins" or "Red Indians" (to differentiate them from the natives of India, who were referred to by the colonial English as "blacks"). To Edwardian kids, Native Americans were a romantic and distant people, primitive and savage, yet noble and dignified. They could be framed as either villains or heroes—murderous raiders, or brave warriors and princesses like Pocahontas throwing herself in front of John Smith to save his life. Because of the distance, they were more likely to be seen positively by English children than by American kids, who tended more to the "cowboys and Indians" games in which the "Indians" were bad guys to be defeated. But there's no escaping the fact that in Barrie's England, the popular concept of Native Americans was neither flattering nor accurate.
Barrie did nothing to expand on or improve the characterization of Native Americans that his audience expected. Neverland has "Indians" for the same reason it has pirates, mermaids and fairies: because these were all features in children's adventure stories and popular make-believe games of the time. Neverland is the land of make-believe, which Barrie tells us is different from one child to another, and which "almost becomes real" in those moments just before falling asleep. It was never presented as having the internal consistency or logic of, say, Tolkien's Middle Earth, Lewis' Narnia or even Willy Wonka's chocolate factory.
Tiger Lily's mock Native American name itself is a problematical pastiche—combining "tiger" to represent fierceness with "lily" to suggest feminine beauty and purity. (It's also the name of an actual flower.) No Native American would have had such a name because there are no tigers in the Americas. But it's the name of Tiger Lily's tribe that evokes the real wince: the Piccaninny Tribe. Piccaninny, of course, is a word used by whites in the United States and Australia to describe youngsters (and infantilized adults) of dark-skinned races, and is now considered an offensive term. However, the "Indians" in Peter Pan are usually referred to as "redskins."
The first time we meet Tiger Lily and her tribe in the novel, Peter Pan, they are stalking the pirates around the island of Neverland:
The lost boys were out looking for Peter, the pirates were out looking for the lost boys, the redskins were out looking for the pirates, and the beasts were out looking for the redskins. They were going round and round the island, but they did not meet because all were going at the same rate.
The full description of the stalking Piccaninnies covers all the stereotypes of fictional "Indians" believed by English children:
On the trail of the pirates, stealing noiselessly down the war-path, which is not visible to inexperienced eyes, come the redskins, every one of them with his eyes peeled. They carry tomahawks and knives, and their naked bodies gleam with paint and oil. Strung around them are scalps, of boys as well as of pirates, for these are the Piccaninny tribe, and not to be confused with the softer-hearted Delawares or the Hurons. In the van, on all fours, is Great Big Little Panther, a brave of so many scalps that in his present position they somewhat impede his progress. Bringing up the rear, the place of greatest danger, comes Tiger Lily, proudly erect, a princess in her own right. She is the most beautiful of dusky Dianas and the belle of the Piccaninnies, coquettish, cold and amorous by turns; there is not a brave who would not have the wayward thing to wife, but she staves off the altar with a hatchet. Observe how they pass over fallen twigs without making the slightest noise.
In a key scene, Peter and Wendy are witnesses to the intended execution of Tiger Lily by drowning. In another stereotype, Tiger Lily confronts her fate with stoic courage:
The boat drew nearer. It was the pirate dinghy, with three figures in her, Smee and Starkey, and the third a captive, no other than Tiger Lily. Her hands and ankles were tied, and she knew what was to be her fate. She was to be left on the rock to perish, an end to one of her race more terrible than death by fire or torture, for is it not written in the book of the tribe that there is no path through water to the happy hunting-ground? Yet her face was impassive; she was the daughter of a chief, she must die as a chief's daughter, it is enough.
In gratitude for Peter's rescuing Tiger Lily by taking her place on the slowly submerging rock, the entire Piccaninny Tribe virtually worships him:
They called Peter the Great White Father, prostrating themselves before him; and he liked this tremendously, so that it was not really good for him.

'The great white father,' he would say to them in a very lordly manner, as they grovelled at his feet, 'is glad to see the Piccaninny warriors protecting his wigwam from the pirates.'

'Me Tiger Lily,' that lovely creature would reply. 'Peter Pan save me, me his velly nice friend. Me no let pirates hurt him.'

She was far too pretty to cringe in this way, but Peter thought it his due, and he would answer condescendingly, 'It is good. Peter Pan has spoken.'
The Great White Father was one of J.M. Barrie's original working titles for his play, but he was persuaded not to use it by the play's producer, Charles Frohman.
The Piccaninnies come to a valiant but sad end when the pirates trick them as they prepare to attack. The tribe is vulnerable to ambush because it always follows a predictable pattern:
The pirate attack had been a complete surprise: a sure proof that the unscrupulous Hook had conducted it improperly, for to surprise redskins fairly is beyond the wit of the white man.

By all the unwritten laws of savage warfare it is always the redskin who attacks, and with the wiliness of his race he does it just before the dawn, at which time he knows the courage of the whites to be at its lowest ebb. The white men have in the meantime made a rude stockade on the summit of yonder undulating ground, at the foot of which a stream runs; for it is destruction to be too far from water. There they await the onslaught, the inexperienced ones clutching their revolvers and treading on twigs, but the old hands sleeping tranquilly until just before the dawn. Through the long black night the savage scouts wriggle, snake-like, among the grass without stirring a blade. The brushwood closes behind them as silently as sand into which a mole has dived. Not a sound is to be heard, save when they give vent to a wonderful imitation of the lonely call of the coyote. The cry is answered by other braves; and some of them do it even better than the coyotes, who are not very good at it. So the chill hours wear on, and the long suspense is horribly trying to the paleface who has to live through it for the first time; but to the trained hand those ghastly calls and still ghastlier silences are but an intimation of how the night is marching…

…Around the brave Tiger Lily were a dozen of her stoutest warriors, and they suddenly saw the perfidious pirates bearing down upon them. Fell from their eyes then the film through which they had looked at victory. No more would they torture at the stake. For them the happy hunting-grounds now. They knew it; but as their fathers' sons they acquitted themselves. Even then they had time to gather in a phalanx that would have been hard to break had they risen quickly, but this they were forbidden to do by the traditions of their race. It is written that the noble savage must never express surprise in the presence of the white. Thus terrible as the sudden appearance of the pirates must have been to them, they remained stationary for a moment, not a muscle moving; as if the foe had come by invitation. Then, indeed, the tradition gallantly upheld, they seized their weapons, and the air was torn with the warcry; but it was now too late.

It is no part of ours to describe what was a massacre rather than a fight.
So, the Piccaninny Tribe is "massacred" by the (white) pirates, as Peter and the Lost Boys huddle in their underground cave below waiting for the battle to be over so they can safely emerge from hiding. It never occurs to Peter to attempt to assist Tiger Lily and her warriors in their fight.
Film versions of the story have done very little to ameliorate the offensiveness of J.M. Barrie's depictions, although the stereotypes have usually been presented more comically, especially in the Disney animated film.
Given the entire historical background of the Piccaninnies and their appearance in the play and novels, I honestly can see no way to include them in updated versions of the story, nor any reason to do so. Surely, Native Americans are not fantasy creatures like hobbits or elves, to simply be adapted into a work of fiction as a colorful device. If a citizen of the colonial British empire, 110 years ago, wrote a much beloved story employing stereotypes and clichés that we've now grown past (or so we fondly think), does that mean we have to continue using them, just "cleaned up" a little?
The trailer for Pan contains many views of Tiger Lily and her "tribe," whose visual appearance evokes a tribe of hippies, rather than any sort of natives—wild combinations of brilliant hues, fringes and bobbles and flowing streamers, hair and skin as colorful as their outfits. But just as the orange and green Oompa Loompas in Willy Wonka and the Chocolate Factory were still unthreatening, small-statured slaves with no legal existence and no rights, the faux "tribe" of Pan is still cooing wide-eyed over white English boy Peter because he wears an image of their sacred symbol. If the movie's Tiger Lily is more attracted to the roguish James Hook than to Peter, it's hardly an improvement.
Steven Spielberg's 1991 film, Hook, got it right. His version of Neverland, which in many other ways was very faithful to the original source material, omits the "redskins" entirely. He makes no effort to depict them in some more "correct" and dignified manner; he knew better than to try. Not only that, but Spielberg's Lost Boys are ethnically and physically diverse. Their leader in Peter Pan's absence is the Filipino boy Rufio, as cocky as Peter ever could be. At the end of the film, Peter passes on his sword to Thud Butt, a chubby black boy who had shown just as much courage and energy in the battle with the pirates as any of his thinner compatriots.
That is how movies like Pan should display ethnic diversity: by blending diverse characters smoothly into the cast as a whole. The problem with Pan isn't that Tiger Lily and her "tribe" aren't played by Native American actors. The problem is that the entire cast is monochromatic. There are several shots in which hundreds of boys work in a mine. There are scenes in an orphanage. There are scenes of the pirates and the "tribe." All the clearly discernible faces are white, except for two: one boy in the orphanage, and one of the pirates. Let's talk about that single black pirate: he's huge, hulking, wears very little clothing, and his apparent role is to beat up people when Blackbeard orders him to. So, we have the standard black male stereotype: huge but dumb brutish thug, who isn't even allowed to wear a shirt.
Maybe we should be relieved that Pan isn't trying to present Tiger Lily as Native American.
Of course, we can't fairly judge Pan until the movie is released and we can see the work in its entirety. Warner Brothers has a particularly bad history for misleading promotion of films—and films can be changed in response to early bad publicity. It does look like the movie might be a lot of fun. But we can have just as much fun with a diverse cast of all sizes, shapes and colors. What is it going to take to convince Hollywood to join the 21st Century?
March 24, 2014
Hugo nominations close on March 31, and All the Shadows of the Rainbow is eligible for a nomination. If you are a member of last year's Worldcon (LoneStar3) or this year's (LonCon3) or the 2015 Sasquan in Spokane, and will be nominating works for the 2014 Hugos, I will be happy to send you a complimentary ebook edition of All the Shadows of the Rainbow in PDF, epub or mobi (Kindle) format.
Email me at vyrdolak [@) bylightunseenmedia (dot] com from an email address which can receive attachments of moderately large size, and let me know what format you'd like, and I'll send it right out. I can also provide a download code if you can't, or would rather not, receive an ebook as an attachment.
Information about Huge nominations may be found at this link:
March 18, 2014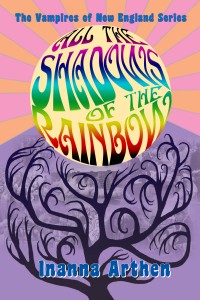 All the Shadows of the Rainbow, published Sept. 2013, is eligible for a 2014 Hugo Award.
If you're a member of last year's Worldcon (LoneStar3) or this year's (LonCon3) or the 2015 Sasquan in Spokane, you're entitled to nominate works and vote for the Hugos. You can do this here:
www [dot] thehugoawards [dot] org/
Nominating a work merely suggests it for the ballot; the ballot finalists, of course, are those which get the most nominations. There are two more weeks to put in your nominations; they close on March 31.
I would be very appreciative if you would nominate my book for a Hugo! I think it's the best of the series so far, and I spent three years researching it. Thanks!
December 15, 2013
This is my schedule for Arisia 2014 (Jan 17-20). I'm very pleased with it! I have to say that the Harry Potter discussion in Fast Track (that's the kids' program, if you're not familiar with Arisia) sounds like the most fun. Hope to see you there!
Friday
5:30pm
Magickal Traditions: a Review
"Like with any religious or spiritual path, there is a wide diversity in the practices and beliefs of modern Pagans, Neo-Pagans, Heathens and practitioners of other Magickal traditions. Panelists will discuss their respective paths, their practices and beliefs."
with Alexandra Thorn (M), Isaac Everett, Sean Kane and Nisi Shawl.
8:30pm
No Excuses for Poor Research
"Modern research tools and what every author should know. If you're already researching, *what* should you research? How do we find good research, that doesn't propagate misconceptions or stereotypes?"
with Victoria Janssen (M), Elaine Isaak, Walter H. Hunt and Sarah Smith
Saturday
1:00pm
Fast Track: Open Discussion, The One and Only Harry Potter
"Sectumsempra! Just kidding. Since we can't read your thoughts, come discuss Hogwarts, Harry, Hermione, Ron, and all the rest. What house would YOU be in? Or would you be in a different school altogether? Are Muggles being treated unfairly? What do you think the future would hold for the world of Harry Potter?"
with James Hinsey (M)

4:00pm
Reading (shared time with Deb Eskie, Daniel Jose Older and Morgan Crooks)

7:00pm
Vampires! Vampires! Vampires!
"For decades, people have been predicting that the "fad" of vampire literature was coming to an end any day now. And yet, series after series of vampire books by authors such as Rice, Elrod, Huff, Harris, Hamilton, Banks, and Meyer continue to be best sellers and spin off numerous successful TV series and films. Is it time for people to accept that vampires are as important to the SF/F genre as astronauts and wizards? Where is vampire literature going next?"
with Genevieve Iseult Eldredge (M), Tanya Huff (GOH), Leigh Perry and Gail Z. Martin
Sunday
11:30am
Fortune Telling Methods
"A discussion of favorite fortune telling methods, their uses, and how they're portrayed in popular culture. Covering tarot cards to hydromancy and everything in-between."
with Sheila M. Oranch (M), Kourtney Heintz, Catt Kingsgrave-Ernstein and Catherine Kane
December 11, 2013
Mortal Touch is being featured Friday at The Fussy Librarian, a new website that offers personalized ebook recommendations. You choose from 40 genres and indicate preferences about content and then the computers work their magic. Once you subscribe, you'll be sent daily emails with suggested books in your preferred category. Only one book per category is highlighted each day, so books aren't buried in a long list. Fussy Librarian vets its books: to qualify, they must have at least ten reviews with a minimum average rating.
To subscribe at no cost and start getting daily recs, go to www.TheFussyLibrarian.com.
Older Posts »
Pages:



Vampire Reviews News and Books
Writers' Organizations
Writers' Resources



Meta: