January 9, 2015
Below is my schedule for Arisia (Jan 16-19, 2015). I have a very good schedule, all the times are perfect and it's nicely distributed through the weekend–kudos to Programming! I'll be day-tripping into the convention. I haven't been to the Weston Waterfront since they did some renovations; looks like there are some different function rooms than I remember. I also hope to be selling some books at the Broad Universe table in the Dealer's Room. Hope to see you there!
———————————————————————————–
Fri 7:00 p.m. — Faneuil
Psi, SF and Storytelling
"Since the days of John W. Campbell at Astounding, psi has been a staple in SF, though public discussion of the subject, by those with these experiences in real life, has been limited. Why do so many real life psi people find irresistible even problematic SFnal narratives? As children or adults, how do we identify with these depictions of people "like us," for better or worse? What do we gain? What do we lose? And what from these flawed but enticing narratives do we embrace, reject, or reclaim?"
With Catherine Kane and Dash (M)
Sat 2:30 p.m. — Marina 1
How to Disagree Better
"Someone is wrong on the Internet! Discussion of new and sometimes challenging ideas is one of the hallmarks of fandom and any free society. We can do a better job of arguing and disagreeing with each other. How do we do this? What tools do we have for sorting out those arguments and finding where the areas of agreement might be hiding? This is not a plea for everyone to agree, this is about how to disagree honestly and respectfully, in ways that allow us to remain a community."
With Bob Kuhn (M), A. Joseph Ross, Joy Marchand, and Ken Kingsgrave-Ernstein
Sun 11:30 a.m. — Hale
Tales from the Slush Pile
"Our esteemed panelists describe the worst of the worst that have crossed their editorial desk. Panelists will also discuss ways aspiring authors can avoid being cast into the slush pile."
With Genevieve Iseult Eldredge (M), Cecilia Tan, Joy Marchand, Hildy Silverman and Joy Crelin
Sun 7:00 p.m. — Hale
Self-Publishing 101: Fiction, Non-Fiction and RPGs
"Do you have an unpublished manuscript sitting in your drawer? Are your gamer friends encouraging you to kickstart your cool RPG? Are you a tradipub author who just got back the rights to your backlist? Would your non-fiction client manual look awesome as a book instead of photocopied papers? This panel of indie authors, small presses, and RPG gamers will tell you what resources are out there, scams to avoid, and what to expect. Come over to the Dark Side of indie publishing. We have candy…"
With Anna Erishkegal (M), Don Chase, Brian Liberge and Susan Hanniford Crowley
Mon 11:30 a.m. — Marina 4
The Hobbit: An Unexpectedly Long Journey
"We're now finally done with Peter Jackson's adaptation. Was splitting one reasonably short book into three films a good choice, or is the extended story just fanservice for people nostalgic for a favorite childhood read? Are viewers starting to get jaded by the on-screen spectacle of Middle Earth, or is the world-building still fresh? Will we get a ninety-film adaptation of The Silmarillion?"
With Susan Hanniford Crowley (M), Eric M. Van, Anna Erishkegal and Bob Chipman
Mon 2:30 p.m. — Bullfinch
Reading. With Greer Gilman and Walter H. Hunt.
March 24, 2014
Hugo nominations close on March 31, and All the Shadows of the Rainbow is eligible for a nomination. If you are a member of last year's Worldcon (LoneStar3) or this year's (LonCon3) or the 2015 Sasquan in Spokane, and will be nominating works for the 2014 Hugos, I will be happy to send you a complimentary ebook edition of All the Shadows of the Rainbow in PDF, epub or mobi (Kindle) format.
Email me at vyrdolak [@) bylightunseenmedia (dot] com from an email address which can receive attachments of moderately large size, and let me know what format you'd like, and I'll send it right out. I can also provide a download code if you can't, or would rather not, receive an ebook as an attachment.
Information about Huge nominations may be found at this link:
March 18, 2014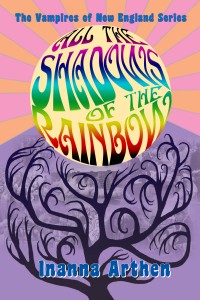 All the Shadows of the Rainbow, published Sept. 2013, is eligible for a 2014 Hugo Award.
If you're a member of last year's Worldcon (LoneStar3) or this year's (LonCon3) or the 2015 Sasquan in Spokane, you're entitled to nominate works and vote for the Hugos. You can do this here:
www [dot] thehugoawards [dot] org/
Nominating a work merely suggests it for the ballot; the ballot finalists, of course, are those which get the most nominations. There are two more weeks to put in your nominations; they close on March 31.
I would be very appreciative if you would nominate my book for a Hugo! I think it's the best of the series so far, and I spent three years researching it. Thanks!
November 7, 2013
I have an author interview today on the Bibliophilic Book Blog: Interview with Inanna Arthen.
On October 31, I was a guest blogger for the Halloween blogathon on Nights of Passion blog: Tricking the Eye, Treating the Imagination.
Many thanks to Star and Susan Hanniford Crowley for hosting me on their blogs!
October 31, 2013
I'm guest-blogging today on Susan Hanniford Crowley's Nights of Passion blog! "Treating the Eye, Tricking the Imagination" Answer a question (it's thoughtful, not trivia) to be entered in the giveaway contest for copies of both All the Shadows of the Rainbow and The Longer the Fall.
And don't miss the one-day-only Halloween BOGO special for the Vampires of New England Series! Until midnight (Eastern Time), October 31, if you buy any ebook edition of All the Shadows of the Rainbow directly from the publisher, you can request a free download code for one of the other books in the series (Mortal Touch or The Longer the Fall). Direct downloads are securely managed via e-junkie.com. Choose epub, mobi (Kindle) or PDF editions. Go to By Light Unseen Media's Facebook Page for details (and Like Us while you're there!).
October 26, 2013
My guest blog post, "Have Yourself an Old-Fashioned Halloween," is up on the Midnyte Reader book blog. Many thanks to Midnyte Reader for giving me the opportunity!
March 24, 2012
Over the past couple of years, there have been a number of instances in which authors responded rudely to negative reviews online, leading to furious arguments and violent accusations in the comments sections of book blogs, the author's blog, various third-party blogs, the book's Amazon page, everyone's Twitter feeds…etc, etc, etc. The basic rule that all this unpleasantness has reinforced, for authors more mature than a twelve-year-old, is: Never Respond to a Negative Review. EVER.
Everyone is entitled to their own opinion. No book can appeal to every reader. Accept the criticism with grace and see what you can learn from it (even if only, "don't query that reviewer again"). Etc, etc, etc.
But this is bothering me lately, because I'm currently finishing my third novel, All the Shadows of the Rainbow, which is the direct sequel of my second novel, The Longer the Fall. Readers have not been as fond of The Longer the Fall as they were of Mortal Touch, the first book in the series. It isn't selling nearly as well and it's gotten, and is getting, much more luke-warm reviews from readers.
The thing is: I'd like to know why.
I really would. Seriously. I'd like to ask the people who just weren't sure about it, or even the readers like the one who gave it one star on Amazon, "Why didn't you like it?" Because most of them don't really say!
I wish I could ask them: "Can you be specific? Can you say exactly how the story failed you? Can you pinpoint where it lost you? Can you tell me what you hoped it would do? What changes would have made it a better book for you?"
The Longer the Fall has its champions, including people who like it better than Mortal Touch. I like it better than Mortal Touch. But when I read people's comments about The Longer the Fall, I feel that I failed to make the story as clear as I should have. I felt that Mortal Touch should have been edited more tightly, and so I edited The Longer the Fall so ruthlessly, I'm afraid that I took out too much, assumed too much, left too many points unclear.
I won't say "readers aren't getting it," because that's condescending and puts all the blame on them. I failed those readers in communicating what I needed to. I failed them as a writer. They wouldn't have started reading the book at all if they hadn't had positive expectations. They wouldn't have finished it if something hadn't kept them going. How did I, as a writer, end up disappointing them so badly?
Now, as I work on All the Shadows of the Rainbow, which like The Longer the Fall is all about magic, and features the same protagonist, Diana Chilton, I really wish I could access my readers' expanded evaluations and reactions, especially the readers who are critical of the second book. And I can't ask. At least, I can't ask directly. Maybe these readers can't really analyze their own reactions any further, themselves.
But for a writer, nothing really matters (or should matter) more than the reactions of readers, because writing is a collaboration between the author and the reader. When communication is the essence of your being, and you feel like you've messed up in a major way, well, it doesn't feel very good. It's really frustrating that etiquette so sternly denies us writers the chance to ask our disappointed readers, "I appreciate your candor, could you tell me more?"
April 2, 2011
There has always been a consistent pattern in my life whereby my fiction and my actual experiences echo and mirror each other in the weirdest ways.
The first time I encountered actor Peter Coyote was in Steven Spielberg's E.T., in which he played the mysterious scientist tracking the little alien. I'd never heard of Mr. Coyote before. But I confess: it was a case of crush at first sight. I'm not prone to fannish excesses–I won't even collect autographs–so I didn't look up Mr. Coyote's biography or read gossip magazines or anything like that. Probably almost any other fan of his knew a lot more about his background than I did. But I loved him in E.T., and I watched for him in other things.
Many years ago, I went to a Red Cross blood drive to donate blood. I can no longer pinpoint exactly when this was, except that I'm fairly sure it was between 1982 and 1989, and I think the blood drive was in Acton, Massachusetts, where I lived in the 80s. It wouldn't have been far from there, anyway. I had taken some film magazines with me to read–Premiere, I think. This was during my efforts to break into film acting locally. I even read Variety.
After I finished with the donation and was resting, the way the Red Cross always makes you do so you won't just jump up, barf and pass out, I was reading the magazines, and one of the blood drive volunteers came by see how I was doing. I said I was doing great, and then she picked up one of the magazines and said, "Oh, could I just look at these?" I said of course, and as she flipped through them she said, "I have a brother who's an actor, and I always like to see if they say anything about him."
"Oh, really?" I said, pricking up my ears for a possible industry contact. "What's his name?"
"Peter Coyote."
I didn't respond very politely, because to me, this was like saying she was related to Justin Bieber. It's amazing that I didn't jump up and pass out. "Oh, you can't be, you're making that up!" I said, or something like it. (In my defense, I was running a pint low at that moment.)
She looked a bit offended and said, "No, I'm not, why would I make that up? Most people have never heard of him."
"Of course I've heard of him! He was in E.T.! He's a doll!" (I'm sure they took a bit more than a pint, actually.)
She seemed rather pleased at that, so I hope I redeemed myself. "He is a doll," she said, laughing.
That was the gist of our discussion–she had other donors to see to–and I didn't even think to ask her own name, or look at her badge if she was wearing one. (I think it just said, "Volunteer" or whatever the term is they use.) I always wondered if she was really on the level. Why would a movie actor's sister be volunteering at a blood drive in Acton, Massachusetts, fer gosh sakes?
But then, why wouldn't she be? Actors come from all over the place. I lived in Acton and I was trying to be one.
But now it's the 2010s and I'm trying to be a novelist. My third book, All the Shadows of the Rainbow, is set during the 1960s, plus a few years on either side. I lived through the 1960s, but just as I did with the 1950s and The Longer the Fall, I've been doing what I call "total immersion research." I'm reading as much contemporary material as I can find, and watching raw film footage from that era, and generally working to enfold myself in the zeitgeist of the times, so I can, not just write it, but live it from the inside out.
By complete happenstance, I discovered that Peter Coyote had been deeply involved in the 1960s counterculture–he was a member of the Diggers and the Free Family, lived on several communes, worked with the San Francisco Mime Troupe, and was at the center of a lot of things that happened in those years. He's written a memoir about it all, called Sleeping Where I Fall. I learned about it from a random reference on the Red Room website, which I rarely visit, but I just happened to click over there on the day when this book was mentioned. I instantly located a copy. I've been reading it for the past week or so.
I've been enthralled with the book, because I hadn't known any of this about Peter Coyote's personal history. It helps explain why, the instant I saw him onscreen, I just felt this "click." I've been relating strongly to so much that he says in his book. I knew I liked him as an actor, but I never realized that he was what I think of as, "one of us." He does have a younger sister, although he doesn't give any clues as to her life or whereabouts. Sleeping Where I Fall was published in 1998, and I'd love to hear what Mr. Coyote thinks about the social and political developments of the last 13 years. I'd guess we share similar views.
Sleeping Where I Fall is going to be one of the most helpful resource books I read, and I've got a stack of them. But I'd be enjoying it even if I wasn't writing All the Shadows of the Rainbow. To add yet more synchronicity to the mix, I found a documentary called Commune by running keyword searches on Blockbuster. When it arrived, it turned out to be about Black Bear Ranch, one of the Free Family communes that Peter Coyote lived with, and Mr. Coyote appears in the film.
It's just strange how themes and people can weave in and out of our lives in violation of all probability or logic. Over and over again, I've been downright spooked by the way things that I'm writing tie into my real life in completely unexpected and inexplicable ways. It's part of the reason that I'm one of those writers who feel that their fictional universes and characters have wills of their own. I don't calculate and control the stories I tell, or the people who inhabit them. My characters tell me what's going to happen and I simply record it…and sometimes, I feel like I'm living it with them. Every once in a while, I feel like I'm living out my fiction in the (so-called) real world.
You might think I'd be more nervous about blowing things up in my novels, in that case! But what good is art if it doesn't shake you up sometimes?
Pages:



Vampire Reviews News and Books
Writers' Organizations
Writers' Resources



Meta: